21.07.2020——22.07.2020
EpiphenoMAILnal : RITUALS OF EMAIL
16:00-18:00
Internet
w/ Char Stiles, Sol Sarratea
In the workshop [*]epiphenoMAILnal : RITUALS OF EMAIL, we created an evolving dogma using simple text rules through email. Utilizing an email list, which broadcasts email to everyone on the list, each participant either sent a simple text rule or contributed a line to the dogma. But before we started, we went over the history of esoteric and sacred text together, as well as the history of email protocol, which is ancient (and even sacred) within the timescale of the internet. This ritual is done not just for the formulation of meaning but for the pictographic element of garbled text. Through this ritual we constructed the basis for a text based pictogram which is embodied in the email chain. This workshop was centred around demystyifing the protocol through mystification and word play.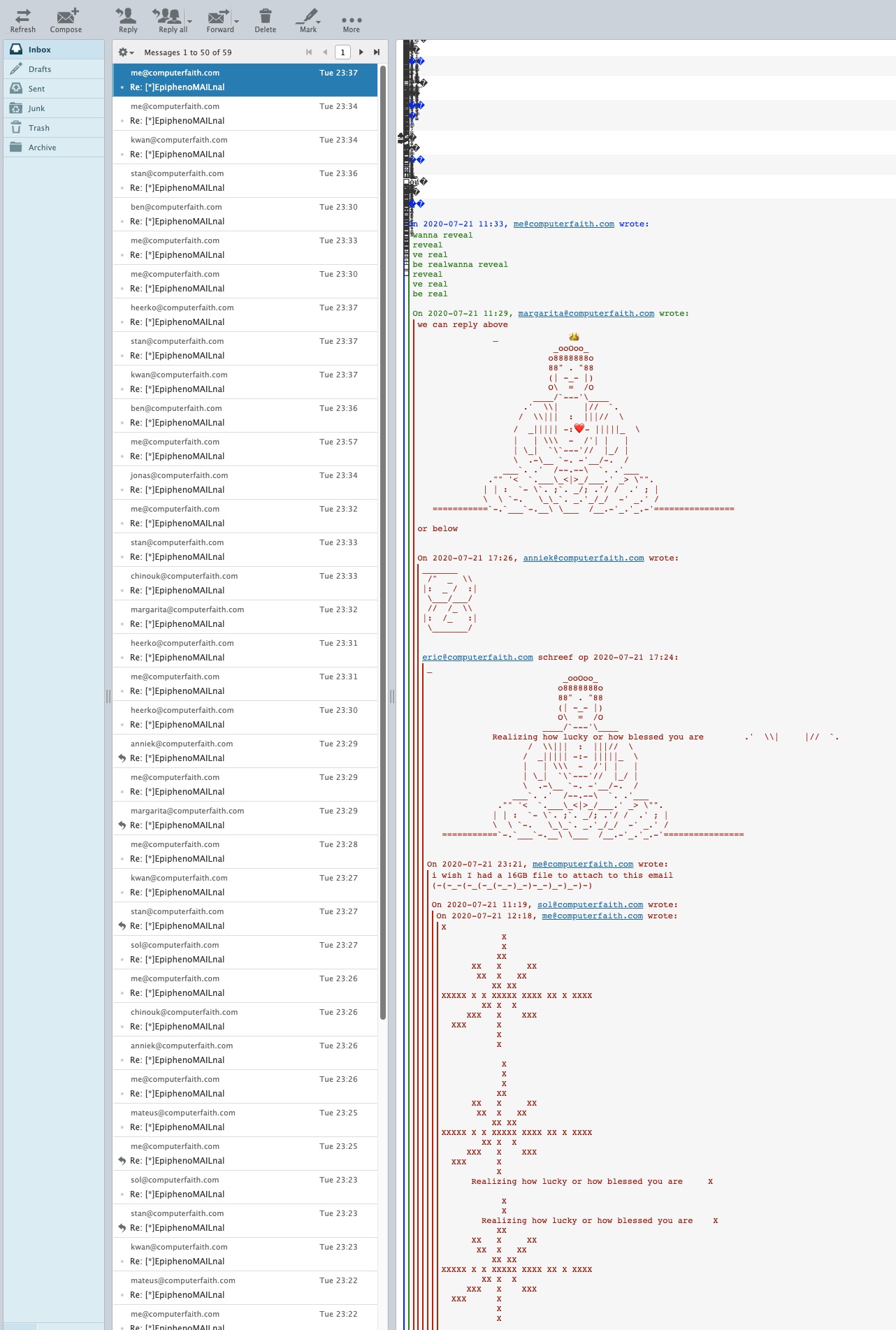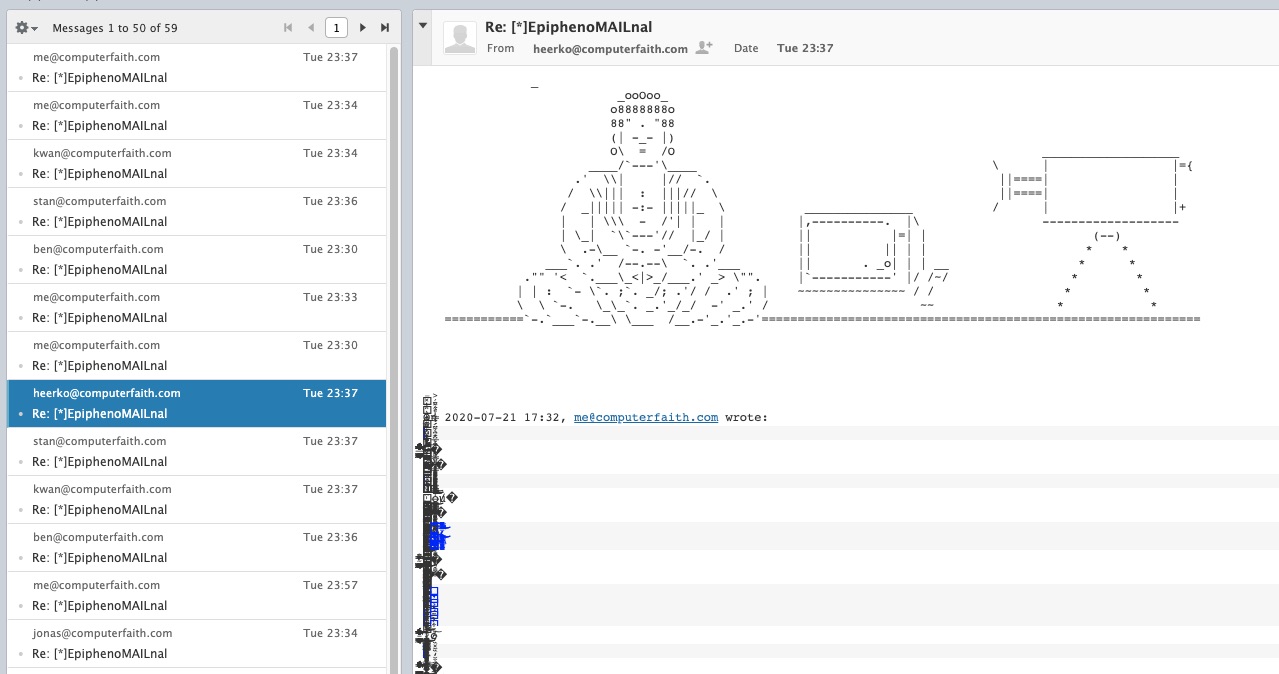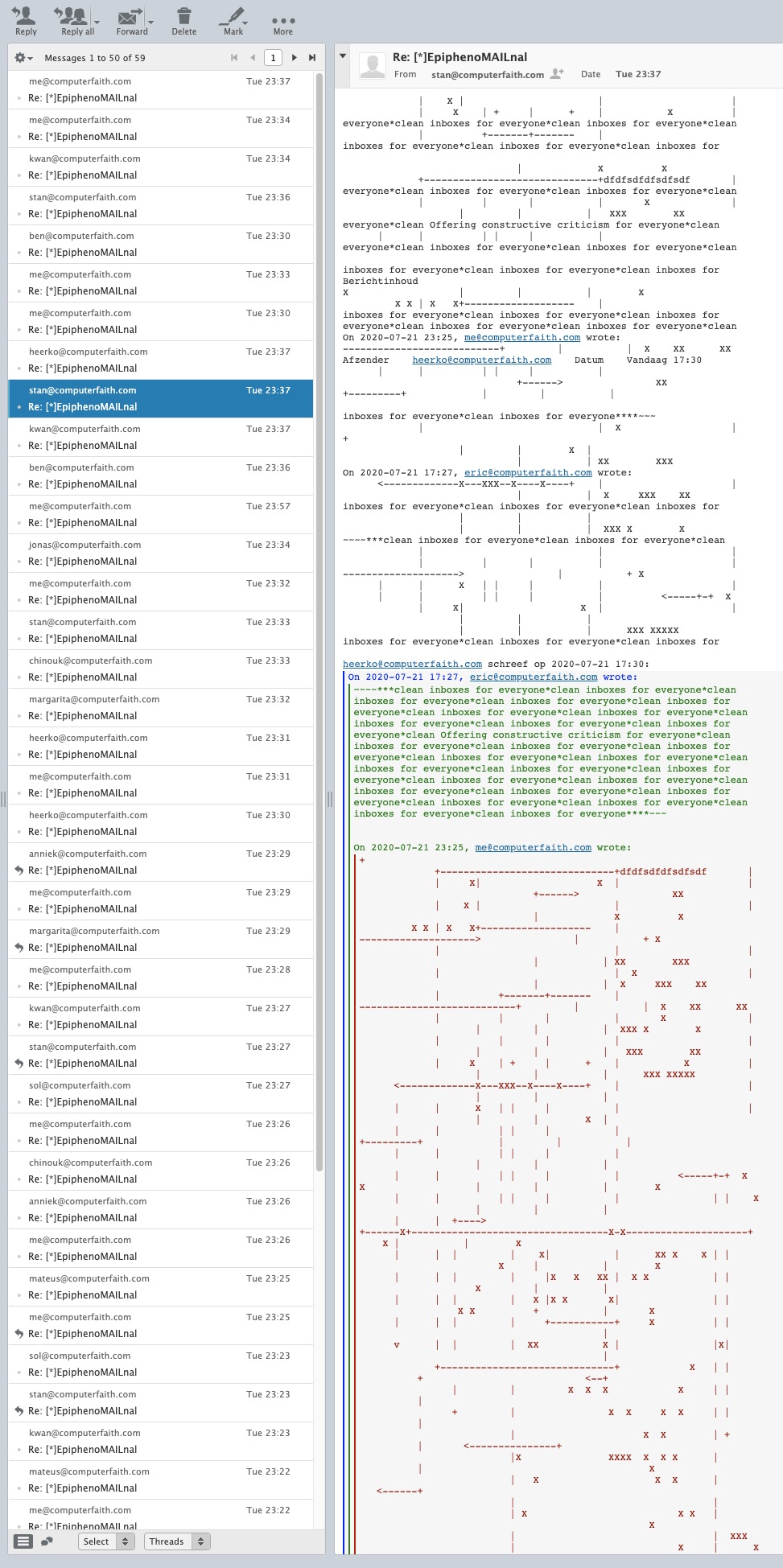 Char Stiles is a multidisciplinary digital artist. They work using emerging technologies as tools for expression. Using computational systems and algorithms they are producing pieces that span disciplines such as video, dance, interactive installation, performance and online works. Currently, they are teaching workshops on livecoding shaders, performing as an active member for the Livecode.nyc collective, and thinking about email. Previously they were a creative-in-residence at the Frank-Ratchye STUDIO for Creative Inquiry. They have received awards from the Carnegie Museum of Art, exhibited internationally and talked and gave workshops at Carnegie Mellon University, Massachusetts Institute of Technology and New York University.
Sol Sarratea is a rare link between Math, Arts and Code. Has experience as a full-stack software developer working on web and mobile apps with different technologies. Enjoys exploring complexity through computing simple mathematical processes. Currently developing feedback systems, and spreading the power of shaders. They perform in the livecoding community, and develop projects which provide medium to explore the intersection between technology, art and society. Previously at Recurse Center enriching her practices.