In Conversation with fanfare
H&D: You were an important part of our activity programme as you hosted our two main lecture events: the H&D Summer Talks 2018 and The Universe of ( ) Images Symposium, at which you were also a speaker. What was your experience of these two events?
Lotte: The two events were similar in that they both used a lecture format, which is something that works very well when we do it with Hackers & Designers! The first one was very summery and was the beginning of a larger project. It felt like a nice way to kickstart the programme, and it was really packed. It was good that the audio of the lecture was recorded and filmed, and I know a lot of people were very happy to be able to watch the lecture afterwards, which meant that the information lived on beyond what happened in the room. Overall, I thought both the programme and the vibe was really good.
Freja: Yes, the symposium was a precursor to a workshop, and the group of people who were speaking was very diverse. My experience of this was that there are a lot of similarities between Hackers & Designers and fanfare, as both happen through the strength of many different people.
Lotte: Yes, we were also speaking at the second event, and I think we must have given the most analog presentation...
Freja: It was about our practice and 'publishing' in different spaces. At fanfare we often have an analog approach. A lot of our interests relate to online networks and communication, but the most important moments in a project are usually the ones where you meet in a physical space, and create room for people to gather and experiment and even make mistakes. This presentation was about the 'fanfare display', which is a set of tools and rules that we have used throughout our fanfare journey, since our nomadic beginning. When we first started we moved around to ten different locations in a very short period of time. This meant we had to adapt very frequently, and consequently our display solution was designed. During this time period we had to consider how we took over a space, claimed it as ours, and created the space anew. There is an open source approach to the tools we have created for ourselves, and in one way we could call it our technology. This technology comprises of rules and codes that fit together in various ways. These tools are, for example, our display of wooden beams with holes. They can work in many ways, and it's very interesting to allow other people we work with to use this technology and see what the results are. It's very unpredictable and something we would like to take more time to investigate—but of course time is a precious component!
H&D: You are trained as graphic designers, and so what is your relation to image making, image manipulation, and the notion of truth? Do you believe in the notion of authenticity in relation to design? Do you feel accountable for the works you create and the events you host? If so, to what degree?
Lotte: The most interesting thing about being in this position (having this space and being graphic designers) is that we get to design every aspect of fanfare, specifically the image of it. We don't have to hire someone and then try to explain to them what we want to achieve, and expect this person to translate it into visuals. We can do that ourselves, and this means we can create a true image of what our intention is. However, we are also a collaborative platform, so there are always others using their own aesthetics, but as they have to use our set of tools and rules these collaborations naturally become part of fanfare.
Freja: The designs that we do, and the form of our projects, also reflect all the people that we collaborate with, and who too are experimenting with and challenging the traditional idea of what this field is. That's very exciting because every form and method is up for consideration. It's always interesting to give our identity to other people and see what they make of it. Many people don't actually know that we are graphic designers, or that we do our own graphic identity, which is something we have recently decided to put more of a focus on. The fact that we make our own images reflects the whole fanfare approach to tools and technology, which is really pretty DIY.
Lotte: Within our program there are many approaches. For example, sometimes we allow various voices and processes to pop in and out of projects, sometimes our own voice will be more present, and sometimes we decide everything ourselves. So there are different layers of involvement.
Freja: fanfare has three pillars to it: one-time shows or exhibitions, the experimental lecture series 'b/channel', and our research projects. The initial concerns and questions that shaped fanfare's creation include how the communication field is developing and shifting, and how we can create room for explorative projects within this field that develop and challenge traditional boundaries. We prioritize thinking about, and giving space to, the development of visual communication and creative networks.
Lotte: There are many practicalities involved in the management of fanfare. For instance we always try to balance our program so, for example, we don't have four digital projects in a row. When it comes to experimental graphic design projects we want to show the diversity of the possible approaches.
Freja: And we want to support upcoming designers. So most people we work with are at the start of their careers, and are to some extent carrying out self-initiated projects. That being said we also see the urge for addressing the lack of the possibilities between the commercial realm and the self-initiated one. Within the creative field financial topics are very complex, but it's important to try to acknowledge that the two can't be completely disconnected. Many of the projects shown at fanfare are not financially driven, but create other value which we think is important to support. One example is the literary collective, Plot Twist, which aims to facilitate alternative learning and sharing among womxn.
H&D: You have been active in Amsterdam for a while now, both offering a space for experimental practices, and finding ways to express yourself through other models. How do you relate to institutions?
Freja: The collaborations that we did with the Stedelijk or the Van Gogh Museum, for example, were projects through which we were able to reach a much bigger audience than we usually would. Being asked to form our own programme within a wider context is definitely a good opportunity for us. It's possible to be critical about large institutions, but there is also something we can gain from these collaborations. Being a smaller platform we can react very fast to things that are happening around us, which allows for efficiency and space for mistakes. We can do something, wrap it up, and then do something else within just a few days. There is a lot of energy in this format which comes from working quickly on our own and with others. The traditional format of the institution is not that flexible—programs are planned years ahead. When we visit other cities we often find that small independant platforms around the globe are the places where you find the most interesting and honest programmes.
Lotte: Honesty and spontaneity are very powerful.
Freja: And having room for flaws is too! It's so boring when everything is subtle and steady.
Lotte: It was probably expected that we would become more institutionalised. But that would mean ripping the heart out of fanfare. We don't want to grow so much that fanfare becomes impersonal.
Freja: There will always be larger institutions and smaller platforms. I don't think there's one recipe for successful collaborations, but it's interesting to think about it. Institutions can offer something that smaller platforms cannot and should not try to offer, and vice versa.
H&D: You mention your visits to smaller platforms around the world, do you want to say something about fanfare inc.?
Freja: fanfare inc. is one of the research projects that is part of fanfare, and it is a platform within our platform. We specifically focus on the development of international collaboration within our field. It is, of course, not something that only happens in the creative sector, but that is what we focus on. As it is a very big topic we divide it into chapters. So we have one chapter every year that has a specific focus, and within that chapter there are different mediums involved. Each chapter always results in a catalogue, a website, recordings of interviews, and a traveling display. We show these results in contexts outside of the Netherlands, and each time we invite 15 to 20 creatives from around the globe to react to the topic. Last year the focus was 'tools' and Hackers & Designers actually contributed. It's very interesting to reflect upon the development of tools that we use while on the run, and also within our creative practice. A lot of the tools that we talked about are immaterial, or reuse other tools by appropriating or changing them.
Lotte: fanfare inc. has a double function: it is the moment where we go and show fanfare as a project somewhere else, but it's also the moment where we work with people from all around the world. We make connections with people, form a network, and share knowledge of interests we have in common. We bring our practice and habitat somewhere new, and by doing so change its perspective, which is quite valuable.
Freja: It creates a framework through which we can initiate conversations, discussions and moments of sharing. Within that framework there is room for being critical, but this is not a necessity. It's easy to be skeptical and nervous about the precarious position you are in when developing work in the creative field, but fanfare inc. also makes room for considering creative exchange or positive insights. We've tried to make sure fanfare inc. is not necessarily politically charged. fanfare inc. has been an excuse to get in touch with similar platforms or networks that support independent design research around the world. It's been very interesting and challenging to go and meet people who come from other contexts and have different working conditions. Particularly because we come from the Netherlands which, as a wealthy country, has a lot of funding options. So when we, for instance, were in Palermo during Manifesta last year, the conversations we had with people were completely different to those we have here, and reflected their working reality. The creative starting point for other, similar, initiatives are totally different and reflect other kinds of urgencies. In these situations we try to be very flexible and adapt to different contexts and learn from them. It's not our intention to arrive as naive Western designers, so we aim to show the nuances of a project. There is a lot more to say (and do) about all of this, so the readers of this interview are very welcome to look us up. We have a separate website: fanfareinc.world! It's the nomadic corner of fanfare!
H&D: You recently started a residency project with M4gastatelier, what is next for fanfare?
Lotte: We always close for one month, usually in the summer, and during this month we like to give the keys to fanfare to someone else. It has already happened a few times unofficially. We previously gave the keys to a collective who used the space for the month and finally rounded up with a public event that we then fit into our program. Leaving fanfare empty is not something we want to do, that would be really strange and waste of space. M4gastatelier has been running in our building for a really long time—actually since the early days of the Tetterode squat. While they were thinking about what to do next, we started to wonder if it would make sense to collaborate. What they have there is something we don't have here, and vice versa. We have a space that is accessible to the public, but they have a space for living that is ready to be used for a residency. We tried this out for the first time in January, bridging these spaces with a residency called The Soft Protest, Digest.
Freja: The idea is still to support projects that are working with visual communication in a very broad sense. We consider graphic design or visual communication as an independent field, and not just as one that can be applied to other things. Yet we have noticed that the majority of residencies support artistic practices. In the context of fanfare there's an interest for devoting the space to projects that exist within our frame of intention.
Lotte: The first edition of this collaboration turned out really well. It was such a different pace for the residents. They were not used to spending so much time together dedicated to their project. They had time to explore, discover farms, cook, organise dinners and meet many different people as well! The first dinner—a twist on the traditional Dutch stamppot—was really fun.
Freja: The collaboration with M4gastatelier is continuing to take shape, but we intend to consider how we can involve ourselves more in the projects, and not just be facilitators or curators. The maintenance of a platform is much more work than people tend to think, along with the continual design and display. These tools become so important because they are our tools for creativity and expression. The research projects take a lot of time and use a lot of the finances, but they become very important because we feel the urge to stimulate ourselves in that way. It's a constant practice of trying to balance things.
One big wish for the upcoming months is something that hasn't happened for a really long time: a moment away from work to just enjoy being together. Our next topic for fanfare inc. is 'pause'. But how do we dive into that topic without creating too much work for other people and for ourselves?

fanfare is a platform and studio for graphic design, visual arts and creative pursuits based in Amsterdam. Through the objective of visual communication, fanfare generates and facilitates an environment for interdisciplinary design projects and collaborations.

All collaborations and projects mentioned throughout the conversation can be found on the fanfare webpage: https://fanfarefanfare.nl/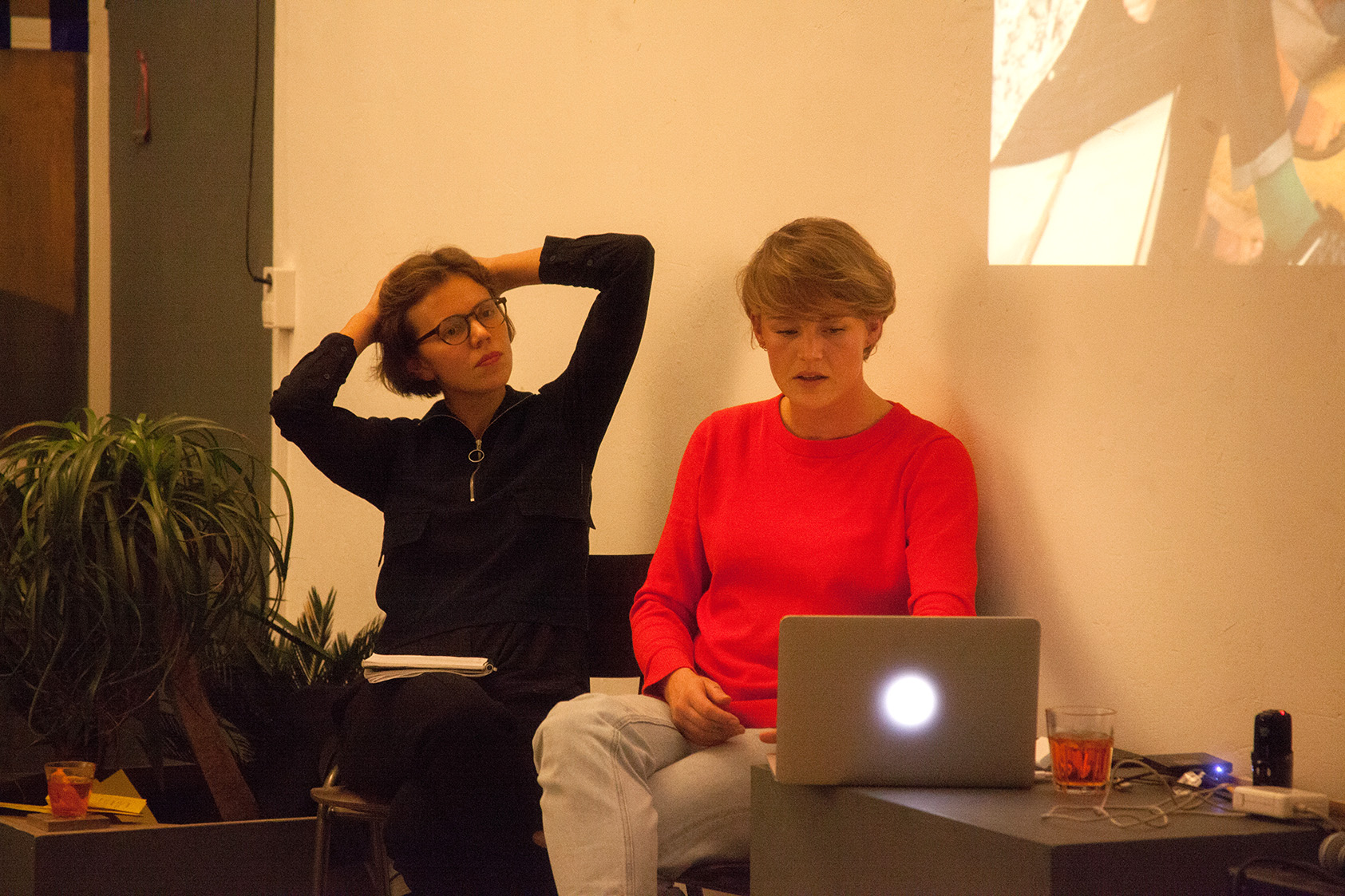 Published in Fake it! Fake them! Fake you! Fake us! Publication in 2019